Locally recognized as the last full-blooded Wyandot Indian in this region, Bill Moose spent much of his childhood in the mid-1800s in the Dublin area. For approximately nine years starting in 1878, Bill Moose traveled in the US and Australia with the Sells Brothers Circus as an Indian rider in their Wild West Show. He returned to central Ohio, and by 1920 was living in a shack near present-day Morse and Sinclair roads, although he often slept outside. The public became very familiar with Bill Moose, as he frequently entertained tourists, posed for photos, sold trinkets and shared stories with visiting children.
Several years prior to Bill Moose's death, the Columbus City Council donated these grounds to be his final resting place, referring to the site as 'Wyandot Hill.' The Civic Committee members whose names are engraved at the site were instrumental in obtaining the land, arranging the funeral and securing the funds to create this striking monument. This area was annexed by Upper Arlington in 1972.
Bill Moose's body was wrapped in an Indian blanket and adorned with a necklace of eagle claws and an eagle feather between his hands.
After he lay in repose for several days at the Rutherford Funeral Home, a procession for Bill Moose began at 8 am on July 18, 1937, with state, county and local officials wending their way to this site. It is estimated that well over 10,000 people attended the viewing days and funeral proceedings.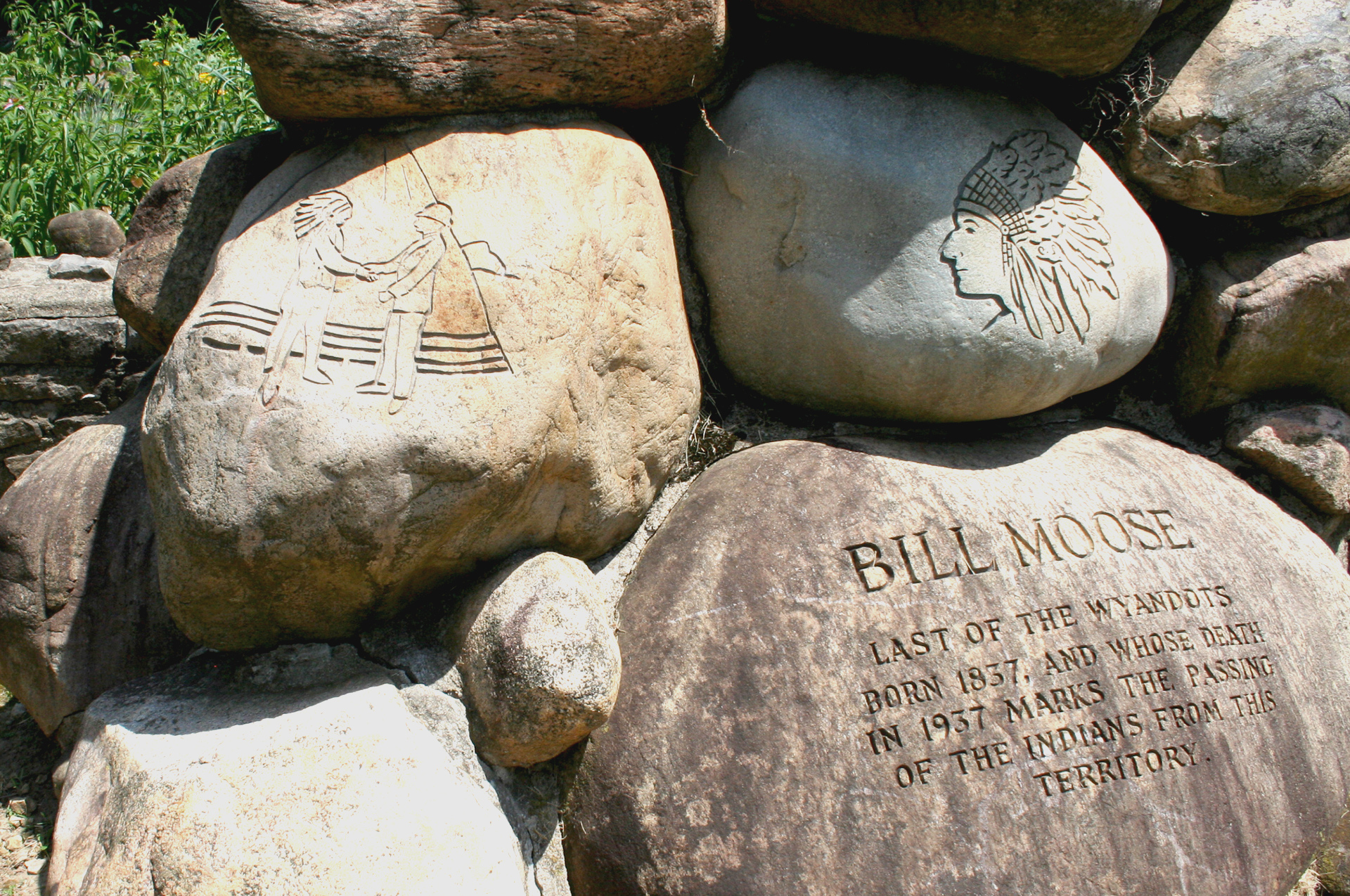 As the sun set on Sunday, July 18, 1937, Bill Moose's casket was lifted from the catafalque while the sounds of a tom-tom and a tribal chant marked the beginning of his gravesite service here at Wyandot Park.
Several months later, a granite teepee monument was dedicated during a ceremony on Sunday, October 17, 1937. The 39 boulders comprising the over nine-foot tall structure were sourced from the banks of the Scioto River.
The Rutherford Funeral Home
The Rutherford Funeral Home on N. High Street where Bill Moose lay in state in the days leading up to his funeral on July 18, 1937. Photo courtesy of Rutherford Funeral Home
Belmont Casket Co.
Bill Moose's lead-coated casket was created specifically for him by the Belmont Casket Co. Photo courtesy of Rutherford Funeral Home
Clintonville, Ohio
Clintonville, OH has a marker along N. High Street celebrating the life of Bill Moose. Locally, Bill was a well-known figure, making his home in that area during the later years of his life.
How did the Wyandot Indians come to live in Ohio? Learn more about Bill Moose's tribe in this article from the Ohio History Connection. 
A tribute to Bill Moose just days after his death is just one of many articles printed about him in
The Worthington News
(Worthington, OH).